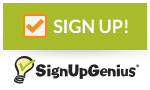 Come to a Diaper Wrapping Volunteer Session to help us to count, sort and repackage diapers for distribution. All ages are welcome! We also offer Friday "Wrap and Play" sessions for parents and caregivers of young children. We use SignUpGenius.com to schedule and coordinate these times. Click on the button for more information and to sign-up to help.
Group Volunteering
Groups are GREAT! We'd love to have your troop, office, or service group volunteer with us!
Group Size We can accommodate groups of 5-15 people. Please ensure that you have at least a 1:4 adult:child ratio to ensure appropriate supervision.
Schedule a Time Complete the form below. If you have a specific date in mind please include it in the Questions/Comments box. We will contact you to confirm a date and time.
Extending Your Service
In the spirit of helping our community's most vulnerable little ones, we ask our generous volunteer groups to make an even greater impact. Here are a few more ways to help us where we need it most:
1. Host a drive for diapers, wipes, or dollars.
2. Ask members of your group to make a small donation. (Just $10 can buy 100 diapers!)
3. Commit your group's expertise and talent to helping the CNY Diaper Bank in other ways.
We will work with you to determine your group's service commitment as you confirm your volunteer date.
If you're not able to come to the warehouse as a group, please email us about other ways your group can get involved in this work. Go to our Diaper Drive Toolkit to find out how simple it can be for your group to collect a lot of diapers and make a BIG impact on diaper need in CNY.